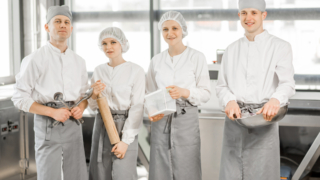 Summary
Food Industry. Production of bakery products
Work experience
05.2002 - 02.2022
The Baker
Хлебзавод
Food Industry
Production of bakery products
Add to query?
Seems like a suitable employee? Do not hesitate, add to the inquiry basket and ask additional questions if necessary.
See also other workers in this category
ID: C94

Extensive experience in the food industry. Knowledge of making various types of dough. Knowledge of various recipes for bakery and confectionery products.

ID: B63

Experience in the food industry, preparation of various categories of dishes.

ID: A58

A young and hard-working production worker who has worked as a baker in the food industry. Has undergone professional training in various companies.