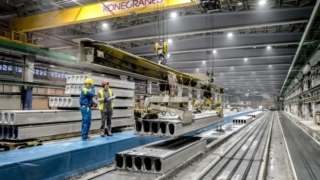 Summary
Experience in the concrete industry, working with equipment SIMEM, ELBA, STETTER, MEKA, CATERPILLAR, CASE, XCMG, DEMAG, installed 5 concrete plants, the production of concrete per month 28000 m3
Work experience
10.2020 - 01.2021
Operator
ТОВ "Даглас Альянс"
Power Company
Construction of hydropower and industrial facilities. Conducting all the processes of pouring concrete in various structures. Knowledge of concrete casting technology. Knowledge in the formulation part of making concrete. Adhering to safety technology and techniques.
04.2008 - 03.2015
Operator
Украинские компании
Concrete Industry
Construction of a runway, construction of the DTC in Ashgabat, production and sale of ready-mix concrete, cement mortars, reinforced concrete structures, construction of the VIP airport terminal,
Education
1993 - 1998
Украинский государственный университет пищевых технологий
Mechanical Engineer
Add to query?
Seems like a suitable employee? Do not hesitate, add to the inquiry basket and ask additional questions if necessary.