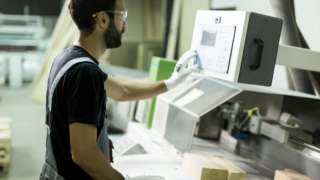 Summary
Woodworking industry. Horizontal and rotary glue press operator
Work experience
10.2020 - 12.2022
Operator
Vincom
Woodworking industry
Operator of horizontal and rotary glue press. Production of laminated veneer lumber according to the production task. Monthly fulfillment and over-fulfillment of the production plan within 10-20%. Sawing wood to specified dimensions on the vertical band saw and the OptiCut 204 production line.
06.2019 - 10.2020
Line operator
AS Viljandi Aken ja Uks
Woodworking industry
Work as an operator on the automatic line for the installation of plastic clips for fixing the aluminum profile on the outside of the window frame. Making wooden windows and doors
Education
Teacher of labor training, basic economics, drawing, and life safety
Add to query?
Seems like a suitable employee? Do not hesitate, add to the inquiry basket and ask additional questions if necessary.
See also other workers in this category
ID: B82

Experience in the woodworking industry, work on the manufacture of products, which were further transferred to the furniture production, the ability to work with drawings and various equipment.