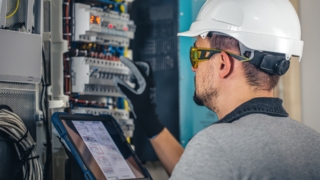 Summary
Experience in the energy industry maintenance of hydrogen stations, assembly of transformer substations, control panels
Work experience
10.2021 - 02.2023
Electrical Engineer
Samper Hydrothech
Energy industry
Service, maintenance at hydrogen refueling stations
06.2020 - 04.2021
Adjustment and test engineer
ЧАО ЭЮМ-10
Energy industry
Performing work on the adjustment of electrical circuits of remote control, process protection circuits, interlocks and alarms.
03.2019 - 03.2020
Installer of electrical equipment
Harju Elekter
Electronics Industry
Assembling transformer substations, assembling control panels, assisting engineers in drafting projects and making changes in the design of substation equipment.
07.2017 - 07.2018
The Mechanic
LTH BAAS
Shipbuilding industry
Installation and maintenance of the main switchboard, switches, alternators. Installation and maintenance of alarms, inspection and maintenance of the communication system on the ship.
05.2016 - 06.2017
Electrician
TOR ELEVATOR
Electronic equipment
Installation of elevators and elevator equipment, adjustment, testing, repair
03.2015 - 04.2016
Electrician
ИБТ
Construction industry
Construction and maintenance of tunneling complex TRMC S 218, maintenance of high-voltage substation, installation of tunneling complex equipment
Education
2009 - 2013
Днепрорудненский индустриальный техникум
Operation and repair of mining electromechanical equipment and automatic devices, electromechanical technician
Add to query?
Seems like a suitable employee? Do not hesitate, add to the inquiry basket and ask additional questions if necessary.
See also other workers in this category