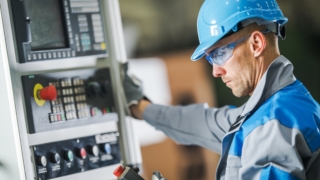 Summary
Experience in the metal industry with various types of machines, knowledge of the setup of these machines, reading drawings for the manufacture of products and products, knowledge of possible defects and their elimination.
Work experience
02.2021 – 07.2022
Operator
DEMARKO Special Trailers
Machine building industry
The company specialized in the production of automobile trailers. Work with the technical card, the choice and installation of tools for the manufacture of parts, work on the CNC machine Tokaz Mazak, DMG CTX sinumerik 840d, Unitech
07.2019 – 09.2020
Operator
Eurostand
Metal industry
The company specialized in the manufacture of equipment for trading companies (metal furniture, shelving, branded equipment, cash equipment). The work consisted of fabrication of metal structures on Aramis laser machines and stamping on a Trumpf machine
03.2017 - 06.2019
Operator
Рубин Сп. з о. о.
Food Industry
The company specialized in the processing and canning of meat. The work consisted of making containers, given the volume of finished products on a Samsung CNC lathe.
05.2015 - 03.2017
Operator
ПП "Коминвент+"
Metal industry
The company specialized in the production of chimney systems and modular system of building operating rooms. Working with a Trumpf 3000 laser, processing sheets up to 6 mm thick. Produces punching, punching, cutting and all kinds of molding (blinds, threading, jointing, marking, etc.), the laser TruLaser 1030 makes a cut of the sheet lr 12-16 mm with quality, which does not require further processing.
02.2014 - 04.2015
Operator
Ирбис Сп. z o.o
Jewelry Industry
Work as operator of CNC lathes Dossan and CNC laser machines Fanuc, Aramis for the manufacture of jewellery. Preparation of the drawing, turning and laser work in the manufacture of the product, checking for quality.
06.2008 - 10.2012
CNC operator
Hydrosiła Leda Sp. z o.o
Metal industry
He worked for a company that specialized in the production of hydraulic power machines and hydraulic system components. Work on the production line of parts, work with skewers, making parts on the lathe, checking for defects and quality, transferring the product for further assembly.
Education
2006-2010
Кировоградское высшее профессиональное училище №4
CNC machine operator
Add to query?
Seems like a suitable employee? Do not hesitate, add to the inquiry basket and ask additional questions if necessary.
See also other workers in this category