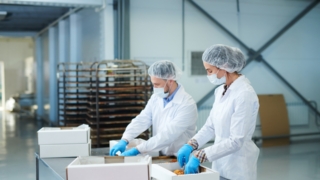 ID: C77
Female, 21.06.1968
Summary
Over 30 years of experience in picking, sorting, and inventory control in various food industries
Work experience
05.07.2019 - 14.07.2023
Warehouse Clerk
ООО "РИФ"
Food Industry
The production facility is engaged in the manufacture of candy products. Duties included: verifying order received, issuing necessary raw materials for production, weighing, packing, checking and counting finished goods. Supervising the movers, making sure the correct amount of finished goods are loaded for checkout. Work with documentation. The work required speed and attention. Completed assigned tasks on time.
03.04.1990 - 15.05.2019
Warehouse Clerk
Торговый магазин
Food Industry
Worked with dairy products and beverages. Duties included: receiving goods in the trading store. Checking quality dates and damage on products. Placement of products in the warehouse. Maintaining product conversions at specific time intervals. Conducting disposal of substandard and expired products. Record Keeping.
Add to query?
Seems like a suitable employee? Do not hesitate, add to the inquiry basket and ask additional questions if necessary.
See also other workers in this category