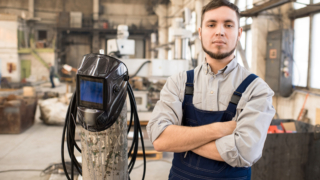 Summary
Metallurgical and machine-building industry. Experience in MIG/MAG methods, argon, gas cutting.
Work experience
08.2017 - 05.2018
Welder
StakoDeller
Metallurgical industry
Welding of various types of metal structures
12.2016 - 08.2017
Welder
УкрТрансРемонт
Machine production
Welding works to restore diesel locomotives
12.2015 - 11.2016
Welder
КЗПТО
Metallurgical industry
Welding work for the manufacture of overhead cranes
02.2015 - 11.2015
Welder
HK-KIPPER
Machine production
Welding of bodies and frames for trucks
03.2010 - 12.2014
Welder
Укртеплоэнерго
Heat Stations
Welding of heating systems - modular units, stations (welding of pipes under pressure). Repair of hydraulic cylinders.
Education
2002
Учебно-производственный цех
Electric and Gas Welder, 4th category
Add to query?
Seems like a suitable employee? Do not hesitate, add to the inquiry basket and ask additional questions if necessary.
See also other workers in this category