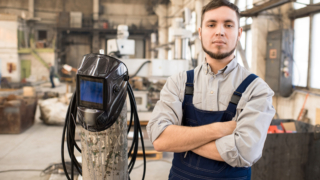 Summary
Metallurgical and shipbuilding industry. Experience in MIG/MAG methods.
Work experience
01.2020 - 03.2021
Welder
CHANTIERS DE L´ATLANTIQUE
Shipbuilding
MAG 136 welder, hull welding of cruise ships Wonder Of The Seas, Celebrity Beyond.
02.2019 - 11.2019
Welder
Zos Trnava
Railway industry
MAG 135 welder, welding parts for Bombardier Talent 3 railcars
03.2016 - 12.2018
Welder
Polimex Mostostal
Metallurgical industry
MAG 135 carbon steel welder in PA, PB positions at high currents
Education
2006 - 2011
Харьковский Национальный Университет Радиоэлектроники
Electronics Engineer
Add to query?
Seems like a suitable employee? Do not hesitate, add to the inquiry basket and ask additional questions if necessary.
See also other workers in this category