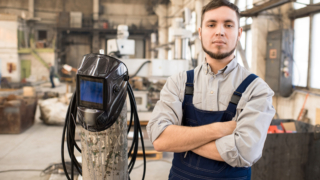 Summary
Metallurgical industry. Experience with the methods: MIG/MAG, TIG.
Work experience
12.2020 - 02.2023
Welder
Andri Retro OU
Mechanical Engineering
Assembly of parts, mining machinery structures, MIG/MAG, TIG welding.
06.2018 - 11.2020
Metal construction fitter
APL Production AS
Manufacturing of tanks and reservoirs for the chemical, food, oil and gas industry
Reading drawings, manufacturing orders in the shop, welding and installation of metal structures, tanks and piping directly at the customer site.
Education
2004 - 2009
Сумской Национальный Аграрный Университет
Industrial and civil engineering
Add to query?
Seems like a suitable employee? Do not hesitate, add to the inquiry basket and ask additional questions if necessary.
See also other workers in this category