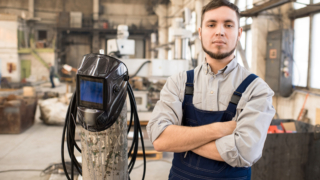 Summary
A skilled welder who worked in the engineering industry. He also has extensive experience in shipbuilding.
Work experience
10.2021 - 02.2023
Welder-assembler
Jawiko OY
Industry / Production
Assembly-welding of various types of taps and tap houses
04.2016 - 09.2021
Welder-assembler
Operail AS
Transport / Logistics
Rolling stock repair. Various welding jobs.
04.2010 - 04.2016
Welder
ООО "Азовский судоремонтный завод"
Industry / Production
Welder, hull repairer
04.2005 - 04.2010
Welder
Erinevad ettevõtted
Industry / Production
Repair and construction of vessels of varying complexity.
Education
2010 - 2014
Приазовский государственный технический университет
Mechanical Engineering, Bachelor degree
Language skills
Ukrainian, Russian, English
Add to query?
Seems like a suitable employee? Do not hesitate, add to the inquiry basket and ask additional questions if necessary.
See also other workers in this category