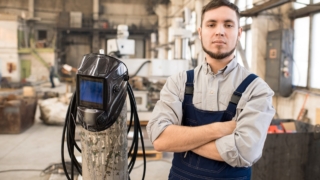 Summary
Experience in the mechanical engineering industry, in companies that manufactured various railroad cars, as well as working with thin-walled stainless steel, knowledge of various welding methods
Work experience
01.2022 - 04.2023
Welder
LaserTool
Machine building industry
The company manufactures parts for commercial vehicles, steel structures for windmills. Hand welding is performed in aluminum, steel and stainless steel. Performance of welding work in accordance with all technological standards. MIG/MAG 135, 136, TIG 141 welding methods. The work is done quickly and with high quality. Checking the quality of manufactured products
06.2020 - 01.2022
Welder
Татра-Юг
Machine building industry
Large Ukrainian manufacturer of passenger cars and streetcar cars. The work consisted of welding metal structures for further car assembly. Execution of work according to drawings. Work with different welding methods. Check the quality of seams.
03.2018 - 01.2021
Welder
Татравагонка
Machine building industry
Production of railway freight cars and bogies. Welding of railway car frames. Welding was carried out using methods 135 and 121 (submerged arc welding) under X-ray.
01.2016 - 03.2018
Welder
Техмаинвест
Metal industry
Manufacturing of stainless steel trade equipment (shelving, dryers, washing tables, special purpose tables, cabinets). TIG 141 on thin-walled steel. Qualitative performance of work and subsequent quality control.
Education
2009 - 2011
ДТСЕ им. Патона
Welding technologist
Add to query?
Seems like a suitable employee? Do not hesitate, add to the inquiry basket and ask additional questions if necessary.
See also other workers in this category