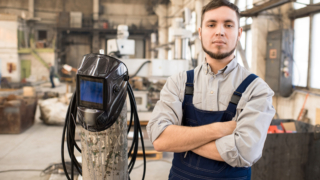 Summary
Experience in the metal industry with MIG/MAG 135,136 and 111
Work experience
04.2018 - 01.2022
Welder
Иностранные компании
Mettle production
Welding of various types of steel structures using the MIG/MAG 135,136 and 111 methods
11.2016 - 03.2018
Welder
ЧАО "Запорожский завод сверхмощных трансформаторов"
Mettal industry
Welding of transformer tanks of size 4-6. Welded metal thickness of 4 mm 40 mm. Used material to assemble and weld black and stainless steel tanks. Worked from the blueprints.
04.2010 - 07.2019
Welder
ПАО "Запорожкран"
Metal industry
Welding of individual parts of cranes (gantry, bridge, tower, special cranes). Welded metal 2 mm to 40 mm thick. The metal used for welding was black. Worked from the blueprints.
Add to query?
Seems like a suitable employee? Do not hesitate, add to the inquiry basket and ask additional questions if necessary.
See also other workers in this category